Say it loud and say it proud my fellow nurses!
All kidding aside I wanted to say thank you. To all you wonderful people who give up your days and nights to take care of total strangers, you all rock! I also wanted to put in print a shout out to all my instructors, preceptors, friends and most importantly the patients who helped this every day gal become a nurse. Without your help, guidance and encouragement I would never have gotten to where I am.
To all you student nurses out there, take time to celebrate this week. You are on the most incredible, life changing journey. This week take a moment to look back to the day before you started nursing school and then look at yourself now. I bet you will be shocked to see how far you have come already. Good luck to all of you, but as my dad says you won't need it because you all have brains!
Oh yes and head on over to this super cute blog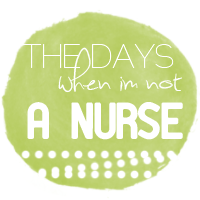 Anna is giving away a lovely package of great stuff
in celebration of Nurses Week.
Happy Nurses Week everyone!