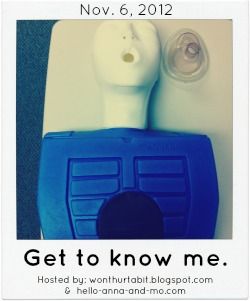 Today I am linking up with fellow nurse bloggers
Anna @ The Days When I'm Not a Nurse
and
Renee @ This Won't Hurt A Bit
This link is aimed at helping our readers get to know us a little better,
so here goes.
My given name isn't Kitty,
it's a nick name that my husband gave me years ago when we first started dating.
He said I act like a cat,
he's right
I love napping in a good sunbeam,
watching birds at the many feeders around my yard
and cuddling up close to on a cold night.
I am a brand spanking new nurse who took her first job in a small community hospitals ICU. I float from time to time to the ER when the unit is slow and enjoy experiencing the different kind of insanity that is ER nursing.
I love my job in the ICU, when I started my job a number of people told me I should have held out for a job in one of the big, glamorous teaching hospitals in town, but I am glad I stuck with my little community hospital. I work in a unit of only 16 beds in a close knit group of nurses. I have never felt like I was alone when stuff hit the fan, I know I can always rely on my co-workers, we're like a family and we never leave one of our own out to dry. There are a lot of stories out there of nurses eating their young, but never once have I felt that way since I arrived to my unit. Every night I walk down the hall to work I am so thankful that I work with such a great team.
My husband and I have been together for 13 years now,
and it's felt like we've known each other forever
at the same time it never feels like that much time has gone by.
I could not imagine a life without him, he was my rock during nursing school.
He patiently let me practice my assessments and vital signs on him, but he drew the line at IV's which was such a pity, he has the most amazing veins ever!
He continues to support me through this last year,
letting me vent every morning when he picks me up from work
and celebrating my little victories with me.
I couldn't have a better partner,
together we can do anything!
I love to work the night shift, I am NOT a morning person, I hated getting up at 5am for clinicals. It's not for everyone but it certainly works for me!
I'm coming up on my one year anniversary in nursing,
I can't wait to see what the future has in store!
Thanks for following along with me
and
I look forward to sharing more experiences with you!