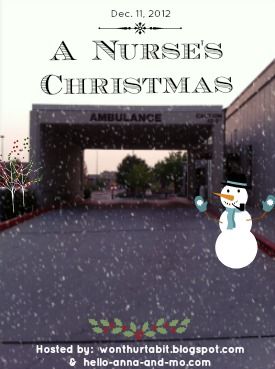 Once again I'm linking up with
Anna @ The Days When I'm Not a Nurse
and
Renee @ This Won't Hurt a Bit
Girls want to know what my Christmas plans are.
This year I am lucky enough to have Christmas Eve off!
So I will be chilling with family.
But in the meantime,
the holiday is in full swing!
Every year I make every nurse I work with a small handmade gift,
this is what I came up with this year.
which I made in a variety of scents.
Then ended up combining the "recipes"
which seems to have worked out pretty darn well!
when I tested one in my bath
it really made my dry skin feel soft.
I think all the stressed nurses need these!
So I made a whole bunch of them!
There should be enough for every nurse,
plus the Respiratory Therapists,
Phelbotomists, X-Ray Techs
Hopefully it will spread some holiday cheer!